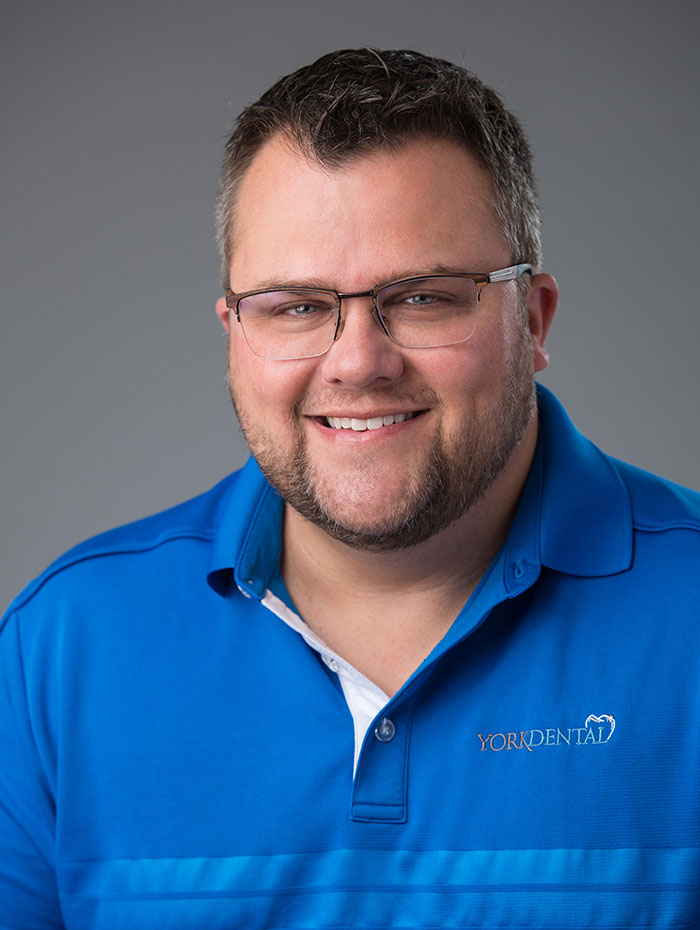 Dr. Smyth comes from Edmundston and he loves being able to practice dentistry in his home province. He went to Acadia University, where he graduated with a Bachelor of Health Science in 2001 and went on to Dalhousie University where he received his Doctor of Dental Surgery in 2006.
Dr. Smyth has owned York Dental Clinic since 2008, and he's committed to patient education and quality care. He's an active member of the Fredericton community. Dr. Smyth is the co-founder of Smiles for Fredericton Day – a free dental day hosted by York Dental where people in need can get fillings, hygiene appointments, or extractions.
He also holds several public and volunteer positions. He's the past President and a current member of the Fredericton Dental Society, and a past board member of the Fredericton Community Foundation. He's a currently a board member for the New Brunswick Dental Society and a member of the Canadian Dental Association. Dr. Smyth also volunteers for various minor hockey programs such as the FYHA and spring hockey. York Dental Clinic is a business member of the Fredericton Chamber of Commerce.
In his spare time, Dr. Smyth enjoys spending time with his wife, Dr. Cara Moran, a retired Canadian military dentist who served at CFB Gagetown. They have two children, Daniel and Julia. Dr. Moran works part time at our sister clinic Midtown Dental. Dr. Smyth enjoys taking their kids to various activities such as hockey, soccer, football, and ATVing. The family spends most of their summer weekends in St. Martins.